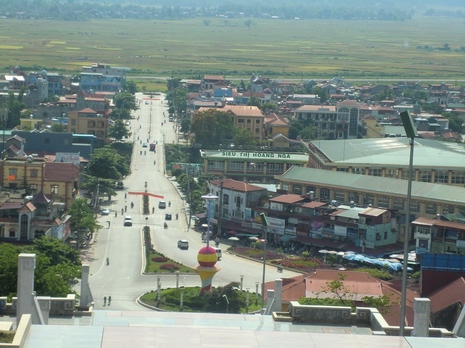 Vietnamese people are on the whole brilliant! They have a great sense of humor and attempt to use sarcasm. We found that even the stret sellers will joke with you and bargaining with a smile and joke definately gets you further.

Our final stop in Vietnam was Dien Bien Phou (DBP) . This is a town where France lost many battles. DBP has had a quick, sharp growth rate going from minor settlement to a town in 1992 to a city in 2003 to provincial capital in 2004!! Wow!

The Journey here was on a night bus. Unfortunately I had the back seat in the middle, my back rest was upright and would not lie flat. The chap in the seat to the left of me was Canadian and offered me a couple of Diazepan to help me sleep. I politely declined as taking pills from strangers didn't seem like the wisest idea to me! I eventually made the decision to sleep on the floor in between Ollie and my chair. It was a bit of a tight squeeze but at least I was flat and lying on my side was ok, I only woke up a couple of times with a severe Clostrophobic feeling but soon went back to sleep! In the morning Ollie said I definately made the right decision and he wishes he had thought of it too !

History and the Laos boarding crossings are the main attractions at DBP but it still feels like it is off the beaten track. Very few people speak English and there are very few signs of tourism here and definately no western style food-not that we found anyway! After a little morning nap we found ourselves in the middle of a town siesta. It was eerily quiet so we decided the only thing to do would be to find an open coffee shop. We eventually found a delightful little place and had a traditional Vietnamese ice coffee served as an individual filter coffee, short and strong. Here we passed an hour or so continuing our Uno championship. (Not sure if I already mentioned but we have begun an ongoing Uno card championship and at this stage I am winning :) ). About 2pm the town started to come alive again and we found a 'supermarket' which sold neither bread nor fruit but it did have a giant bag of mentos sweets-there'll do nicely for our onward journey!

Early evening we were minding our own business in the hotel when suddenly the hotel started to shake. This only lasted maybe 5 seconds and was very subtle but we both felt it. The hotel owner didn't speak very good English but with hand gestures
And the Internet we deduced that we had experienced our first earthquake!

Dinner in the evening was delicious in a little local place that didn't speak English never mind have a menu in English, but with a little help from the lonely Planet phrase book we managed to order chicken noodles and vegetable fried rice. It was absolutely delicious . The rice contained mixed veg and peanuts and had a delicious sauce on it. Almost a shame really as it was served with; a bowl of consume; some soy sauce and some garlic and chilli oil. We think the idea is you mix them all together to concoct your own dipping sauce/seasoning but mine was already tasty and didn't really need anything adding to it! Our meal cost 2.50pound including 2 cans of pop.

We were up early to catch our 5.30am bus over the border into Laos. Just before we go I'll leave you with A very brief round up of Vietnam;

The Food has been extraordinary. From delicious great Indians to fried noodles. Street food and superb restaurants. Vietnamese eat everything and anything that moves but there is also an abundance of vegetables and fruit including the awesome purple fleshed dragon fruit. There is also a big emphasis on social eating and many of the best meals take place on little blue plastic chairs sat outside. Laughing cow cheese and condensed milk are widely available due to their ability to withstand the immense heat-UHT wins in Vietnam!
The coffee has been astounding and I have found that my drink of choice would be an ice coffee with sweet milk. It just does not taste like coffee from home, it's better, thicker, chocolatier and definately packs a punch . And just a quick mention for Bia Hoi. Delicious cheap beer enough said! :)

The Vietnamese people are on the whole brilliant! They have a great sense of humor and attempt to use sarcasm. We found that even the stret sellers will joke with you and bargaining with a smile and joke definately gets you further.

Some of the Vietnamese People have lived through unimaginable horrors but just get on with the hand life has dealt them. They don't volunteer too much personal information, however they stop to say hello and whatever they have they will share with you and will try to help even if they don't speak English. We heard one story of an American girl being at the war museum in Saigon, when it just became too much for her and she started crying. A Vietnamese lady went over to her, gave hug and offered comfort. Whilst we were at the Waterpark a young girl gave me her rubber ring at the wave pool and shared with her friend. As we discovered in the mojitos bar they also stick to their word, at least some people do!

Effects of war on the country are still visible if you look for them but the country was never broken and the people emerged with their pride intact. One of the poorest, war wounded corners of the globe has definately managed to transform itself onto a prospering nation.

The craft skills and handicrafts we have witnessed in this country have been out of this world, suffice to say having not bought any souvenirs from the other country's, leaving Vietnam our bags are full to bursting.

Traditional clothing items such as conical hats, shadow hats and AO Dai 's are still widely worn and are both beautiful and so practical. However most of the people are quite westernized in their style.

Motor bike is the most popular transport method in Vietnam and there are millions of them; at least 5 million motor bikes in saigon alone. Cars are still too expensive to buy. In the big cities traffic is constant and crossing roads is an art form. You have to have confidence and just go. Once you are on the road keep at a steady pace and the bikes will serve around you.

One of the challenges for us was the Immense heat, and the humidity seemed off the scale. We had our air conditioning set at a comfortable 28degrees! We were constantly sweating outside and it got to the point where the only clean clothes were new clothes.

The Vietnamese Language is freaking hard! I was just starting to pick up basic written words after 4weeks. Vietnamese Only has words of 5 letters or less and uses only one syllable, then different accents denote the different meaning eg, ga is either; chicken train station or wash.

Sport is greatly enjoyed here and we often came across a football, volleyball or badminton match between the locals. In addition Vietnam is a country with spectacular views, country side and the possibilities for adventure are only limited by your ability and imagination.

What a country Vietnam turned out to be, our favorite country of our travels and a pleasure to have traveled through. I was often behind on our blog as we were too busy enjoying every minute or sleeping as we were so exhausted. It was easy, relatively cheap, good food and beer, friendly and jam packed full of adventure.
Next stop is our 9th and final new country; Laos. We have heard it is meant to be cheap and incredibly beautiful but it is going to have to pull out all the stops if it is to become close to being our favourite country.