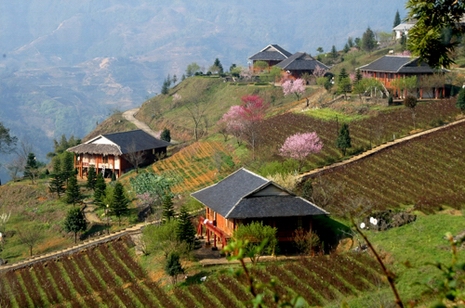 Spectacular scenery, peaceful hill tribe villages, magical rice terraces, smiling faces...all combine to make northwest Vietnam an attractive region. Travel northwest Vietnam in a wonderful loop from Hanoi to Yen Bai, continue to Bac Ha, up to Sapa, further to Lai Chau and Dien Bien Phu, cross Pha Din pass to Son La, down to the valley of Mai Chau and back to Hanoi for a full circle. Northwest Vietnam is most beautiful in Spring with Peach, Plum blossoming all the forest and mountain, the sounds of bird singing, flute coupled with passionate cups of wine make the Northwest bustling, brilliant. In addition to sightseeing, the northwest also offers you the unique highland culture.

Best time to visit the northwest
Each season northwest has it's own charming, however there are 2 seasons the northwest region is most beautiful is Spring and Autumn, Spring time is from January to February on lunar calendar, this time all kinds of flower blossom and it is in this time ethnic minority groups in the northwest open their festivals with many activities such as singing, dancing...
October is Autumn in the northwest, the rice terraces shine a picturesque yellow. Autumn sunshine in the northwest is bolder than other regions. The weekend markets usually take place on Saturdays or Sundays, it's a chance for you to have more memorable experiences, the sounds and colors of hill tribe markets is something travelers cannot ignore.
If your time is limited you can follow the route Hanoi - Mai Chau - Moc Chau - Son La, if you have more than 7 days you can take an itinerary from Hanoi - Yen Bai - Thac Ba lake - Mu Cang Chai - Bac Ha - Sapa - Lai Chau - Dien Bien Phu - Son La - Moc Chau - Mai Chau and then back to Hanoi. This itinerary is strongly recommended as it brings you unforgettable experiences in the whole northwest area.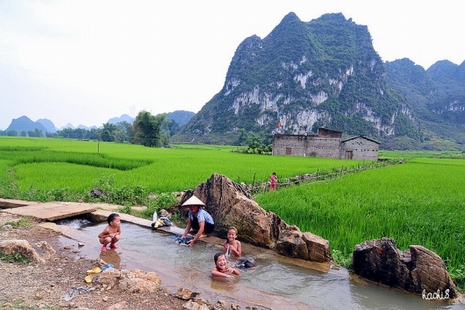 Transports:
As a base, there are many public buses to northwestern provinces, however if you travel by bus you can visit the town centres while the most impressive part of the trip is the journeys between destinations, you will miss most of the beautiful places as the buses only travel on the main roads, away from inhabited areas where the villages are located. The best way to travel nortwest is by car or motorbike, you can keep the cost down by traveling with friends or rent a private car for the whole trip.

If traveling by motorbike remember to make sure that your bike is in good condition, check the fuel, brake, engine carefully before the trip, note that there are few petrol stations in remote areas and you need to fill the tank anytime you see arrive at a place.

If traveling by car, you should not go more than 60 km / h while driving uphill. Best speed is 40-50 km / h, you can just might admire the scenery and ensure safety. For motorcycles, the speed should be kept from 30-40 km / h when up and down the pass. Every time getting on top of the pass you need to take a few minutes break before going down. Every day should not exceed 200 km. The last days will be more tired. Driving about 150 km and stop for overnight stay is the best. Travel northwest needs leisure to enjoy the scenery, discover life.

Every day should depart from early morning when your mind is fresh, excited, have enough time to get to the next destination, have accommodation before dark. Don't cross the mountain pass when it is dark or twilight, this is extremely important, to avoid the risks and ensure safety.

Sleeping and eating
In the northwest, there is a small town almost every 50km, there are motels and guesthouses in these places however mostly basic and restricted facilities. We recommend that you calculate your itinerary to get to the centre of town on time, and you can always refer local people for accommodation, hotels of high standard are usually in big town or tourist centres such as Sapa, Dien Bien, Son La, in small town you can stay at motels or state guesthouses, another choice for backpackers is homestay in the village, this is a good way when you budget is tight, however remember that in some areas foreign travelers need to apply for permit to stay the night in the village.

Most motels and guesthouses are located in the central areas or near the market, it is also easy to find food and take a walk in the evening. Travelers can have a room at a guesthouse for about 200.000 Vietnam Dong (9 usd), the rooms are equipped with basic facilities such as air conditioner, en suite bathroom with hot water. It's a good idea to check the room before you pay.

There are not many choices for restaurant to eat in the northwest, especially when you are out of town, if you find a restaurant on the way just stop to eat, don't be too picky and wait or you will be hungry. Most restaurants have a few customers and the food is not always ready, only when you come and order they will cook for you, don't hesitate at a poor-looking restaurant, just ask what you want and you will have a good meal before continuing the trip.

Local specialties in the northwest is tofu in tomato sauce, beef with garlic, vegetables with pickles, these dishes are popular and they are fresh. In Moc Chau some restaurant also serve river fish, from Son La to Dien Bien you can try sour bamboo shoots or salty fried chicken...


Respect for local culture
Except few destinations that have been touristy, many areas along Northwest roads are relatively unspoiled, people are friendly and honest, when you come here, you have to respect their tradition and customs.

Do not play joke too much, do not tease the local girls, not talking and laughing loudly when in the village because the villagers would bother, don't take photos if you are not allowed or when people are unhappy.

If you are friendly, warm, respect people, you'll be treated the same way or even invited to chat with the hosts. Although travelers want to learn the life of the people, you should not place your eye at every corner of the house, especially not look at the sleeping place of the hosts.

Some things to note:
Study the map before your trip, you must have a plan and follow it, don't travel by inspiration. To have a safe trip for yourself and not affect others, you need to prepare everything carefully. Must calculate the daily journey to travel safely.

Protect your transport, when you see the road is bad you need to get out of the car and see with your own eyes before driving past. Control speed in all cases, when tired you should find a safe place to stop and rest, don't try to drive.

Food and snacks should be stockpiled in the car such as cakes, chocolate, some fruits such as apples, plums, oranges just in case you are hungry without restaurants along the way. Always bring a sweater though this stretch of road when you travel in winter or summer.

And do not forget to buy a lot of sweets, cakes ready in the car because you might encounter children anywhere on the road and the most wonderful gift for children in the highland is sweets and cakes. Looking cheerful kids with candies, your trip will be more complete and warmer.