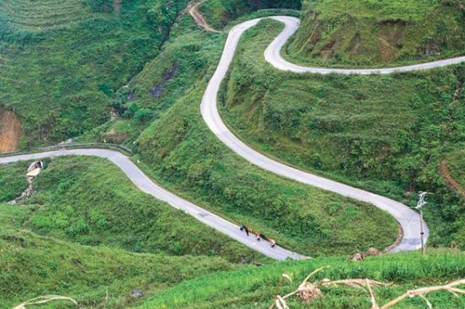 Pha Din pass in Lai Chau is one of the most beautiful passes for all adventurous travelers. From the Ha Noi capital, if you take Highway 6, you will cross the plateau before the next scenic Yen Chau, Thuan Chau (Son La province) and from Thuan Chau continued to Tuan Giao is experiencing Pha Din pass, located at the intersection between Son La and Lai Chau (old), now is Dien Bien province. Pha Din Pass in Thai is Pha Din – means Heaven and Earth.

Pha Din downhill, the drivers here are always cautious. Pha Din Pass is 32km in length, located on Highway 6, a communal section of the cabin, Thuan Chau district in Son La province and part of Radiant Love Commune, Tuan Giao district, Dien Bien province. Guests usually classified Pha Din Pass into the one of the "big four Pass" Northwest, next is O Quy Ho Pass (Lai Chau – Lao Cai), Ma Pi Leng Pass (Ha Giang), and Khau Pha Pass (Yen Bai ).

From km no. 360 to km no.392 on Highway 6, is the junction between the east-west direction between Son La and Dien Bien, located in Ta Phin system western highlands. Experience a day on the pass, we stopped at two points and one point on the pass. Pass with an elevation of 1,648 meters above sea level. Do not see any villages, only deep blue sky and majestic mountains as blended as one. There is a television relay tower of Vietnam TV.

Pha Din Pass carrying the legend of the competition horse martial of Northwest people, have now been slashed altitude, running along the slopes gentle, while the old mountain pass above remain high for people Popular adventure travel conquer.

Highway 6 through the top of Pha Din is laid down, but still wanderous near by interior walls, but the surface of road is very beautiful, and even go down the Tuan Giao town, the fields and the villages more gnarled out more, a painting peaceful and romantic out front. Pha Din The name derives from the characteristics of mountain peaks bathed in midair immense earth, as a harmony place of God – Land.

Attached to the summit with a legend: ancient, when people residing on both sides of the dispute invincible mountains, devised a plan for a new division of land is horse racing. Horse of Lai Chau and Son La and came from two behind the distance. Horses ran to where land belonging to the tribal territory until met. The result is a faster horse Laizhou run a little land should belong to a slightly broader Lai Chau. Double Horse's juncture is Pha Din Pass.

On the road passes, we may watch the interesting and impressive images. The Highway 6 connecting the capital to remote uplands, but very close, dear. Traveling on this road section, you'll remember the beauty of the place sky – land and air: Pha Din.
In the war against France, one of the important arterial routes to transport ammunition and food for the Battle of Dien Bien Phu (1954) of us go through this pass, made Pha Din Pass become a symbol of intrepid spirit with more than 8,000 youth volunteers "to death for the country for sacrifice". In 1954, in order to stop this line of our logistics, uninterrupted for 48 days and nights, French Minister Christian de Castries gave bombers 6th Street, including Pha Din Pass and Co Noi fork (national historic sites Family in Mai Son district, Son La province) are two places that suffered the most amount of bombs falling. On top of the pass Pha Din is still steles are marking this historic.