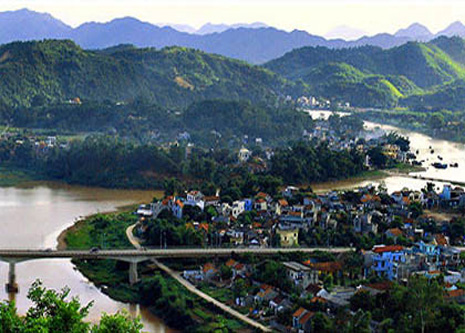 Tien Yen is a mountainous district of Quang Ninh province, this area has many ethnic minorities, this is one of the least developed districts in Quang Ninh.

Tien Yen district has many mountains, valleys and rivers. In the northwest is Cai Ky mountain with Nga peak stretching out to Ba Che river mouth. At the foot of the mountain is a strip of coastal plain, nin the north is a wide range of mountains connecting to Dinh Lap and Binh Lieu districts, in the east is Pac Sui and Thang Chau mountain surrounding Tien Yen valley.

Tien Yen has mountainous climate, winter is pretty cold, summer is cool and rainy, average temperature of Tien Yen is 22 degrees Celsius.

Tien Yen district has many national highways passing through. Highway 18 connects to Ha Long and Mong Cai. Highway 18C away from the town of Tien Yen to Hoanh Mo borger gate. Highway 4 runs from Mui Chua via Tien Yen over a length of about 10 km, linking Tien Yen with Lang Son, Cao Bang provinces, the route runs parallel to the border between Vietnam and China. In addition, the waterway is also quite favorable for deep and closed ports as Mui Chua ports, Van Hoa military seaport outside the Tien Yen sea.