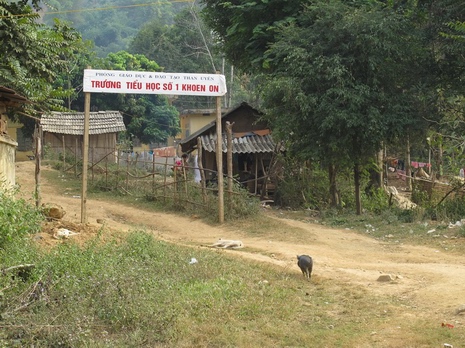 We recently wanted to head off & explore the 'remote' northwest area of Vietnam. The region, which borders China & Laos, is known for its multitude of colourful minority groups & endless stunning scenery. Kylie, Amy, Amber & I hired a 4wd, a local driver & set off with a carefully planned route mapped out before us. There's a standard loop that people take, but just to be different we chose to do it backwards.

The trip didn't turn out quite as any of us really expected. We'd planned for time spent meeting hilltribe villagers. We expected time to explore the villages we were visiting and to have stories to tell & photos to show from our unique & remote 4WD adventure. Perhaps we could have all done more research; perhaps we could have been warned. As it turned out, we spent the vast majority of our 4 night, 5 day trip in the car, speeding through remote villages, gawping at locals through our 4wd windows rather than meeting them & forging friendships.

We had the option to stop wherever & whenever we wanted, but there's only so many times you can stop the car, jump out, take a photo of a local & speed off again. You generally gain little but guilt from snapping away at people with no interaction at all, although because of the circumstances we did still take lots of photos from the window as we sped past. It was often that or nothing. My memory may be mistaken, but from what I remember, all but one day was spent in its entirety in the car (save for a few photo op's & lunch). Most evenings we arrived too late to really explore - it's dark by 6pm & with no street lights in villages it's not easy to wander off into the darkness.

Despite all of that, there were of course still a few magical experiences along the way:

We stopped in one village where we seemed to have enough time to walk around for awhile & share a few moments interacting with the locals - mainly kids. There's around 50 minority groups in the area, the people in this village were Black Thai, & I soon realised that I could understand the odd word of what they said. I don't know much Thai, but I can count pretty well & I can say a handful of other randomly useful things. Although we were far from Thailand, the Black Thai speak a variation of the Thai language & thus I was able to utter a few words that were mutually understood. There's something quite satisfiying about realising you can communicate where you least expect it - even if it isn't much.

We spent awhile amusing & being amused by the kids & looking around the village. It was built on a river with beautiful views as far as the eye could see. In most of the villages woman (& children) carry babies in a very basic kind of backpack, really just a piece of material sewn together in a special way. We were keen to buy one, perhaps as a present, perhaps for us someday. At a market stall there was a baby, but no sign of the backpack things. I know I said I can speak a little Thai, but hard as I tried to describe what we waned to buy, it was soon apparent that they thought we wanted to buy the baby. The woman who's baby it was ran out of sight, perhaps in fear. Eventually we all made sense of each other & there was laughing all around. This simple interaction is what I craved from the whole trip.

Our first night was spent in Sapa, a famous & popular tourist resort not far from the Chinese border. On the way we stopped at the border crossing & looked on - we were in the exact same spot as we'd been when we arrived from China four weeks ago to the day. Somehow we'd travelled so far yet not really progressed at all.

We hadn't heard good reports of Sapa so chose not to stay any longer than absolutely necessary. It seemed a pretty pleasant place, the people friendly & some of the food delicious. In the 'Friendly Cafe' (which it was), we ordered some vegetarian spring rolls. We suspected that they had meat in them, so asked the woman there if there was. She went to the kitchen & came back with a hunk of fresh meat. 'This' she said, 'is what meat looks like' - it was as if she thought we had never seen meat before & needed a visual demonstration of what meat really looked like.

Sapa is very close to Mt Fansipan, one of the tallest mountains in South East Asia. Apparently the whole area is surrounded by lush rice terraces, mountains & hills. Sadly all we saw was rain & cloud. Fortunately some kind of weather forcefield exists just round the corner from Fansipan & although the views on the far side aren't so stunning, the weather normally is.

Mr Binh, our driver spoke very little English. I forget the reasoning behind it, but when we made the car & driver arrangements, I'd been assured that it was actually better to have a driver that didn't speak much English. He did seem to speak various local languages which was useful & I guess what's really most important is that he's a good driver anyway (& he generally was, the only incident being when we ran over a child's foot).

On our second day we were planning to spend the night in Lai Chau, an anticipated 8 or so hour drive from Sapa. So when we passed through a place called Lai Chau after about 3 hours we were slightly confused & concerned. Mr Binh was determined to keep driving even though we all knew that the signs said we'd just passed through Lai Chau. He pulled over & drew imaginary maps on the windscreen. We had no idea what he seemed to be going on about & he drove on. As it happens they've decided to change all the names of the places in the area. This place had been the newLai Chau, the old one was still many hours away.

Old Lai Chau is a small one street town in a long valley, with yet more stunning views all around. It was here that we realised just how much they are into eating dogs in Vietnam. Cho (or Cay in the south) means dog in Vietnamese, and once we'd worked out what it meant, we saw it just about everywhere we went. People are fond of dogs, almost everyone seems to have a pet dog, although normally something small & cute like a Pekinese. It didn't take long to realise however that most of the bigger dogs in Lai Chau were not cute. Neither were they very friendly. After an interesting walk just out of the town into a peaceful & friendly village, I found myself contentedly walking back alone to meet the others in the absolute pitch black. Two dogs came for me, big white salivating jaws clearly visible; their barking the most ferocious I've heard in years. Eventually a local scared them off. Early the next morning on peaceful stroll through another village we were confronted with more unfriendly barking & ready to bite dogs. They must know that some day soon they will be someone's dinner. If only they knew I was vegetarian.

From Lai Chau we drove via Dien Bien Thieu to Son La for a night, & then on to Mai Chau. Over the course of the four days we passed numerous villages & hundreds of locals. Each minority wears a different style of clothing & many villages live in differently designed types of hut. The clothes are almost all very colourful, with headresses & jewellery. Although in Mai Chau they no longer dress as they used to, they live in stilt houses, raised a few metres above the ground, and they've created quite a good little business by opening their homes to travellers. This is no rustic hilltribe experience, they have electricity & running water these days, but it still makes a change from what we are used to.

We slept in a large open shared room with a beautiful view that looked out directly onto the rice fields. Finally we had time to relax & explore too. For the second time on the trip, I found myself at some kind of kindergarden or school. Again these small moments are what make the trip worthwhile. In the first place Amber & I had been invited in & took lots of photos that we promised to send to them. Before we left I picked up a very cute toddler. She was perfectly happy to be held & decided to amuse myself by pretending to leave with her. She didn't resist & the staff just nodded as if to say 'okay, take her'Much as I was tempted, I didn't but I've no idea how far I would have got before someone would have stopped me.

In my previous travels through Asia I've come across many many villagers & peasants, and the one thing that always seems to be constant is that however poor these people are, they appear to be happy. They live with their families, they live off of the land around them. They have no desire to drive big cars, eat at McDonalds or shop at big supermarkets. Yet for some reason it's assumed that this western idea of happiness is what everyone really needs.