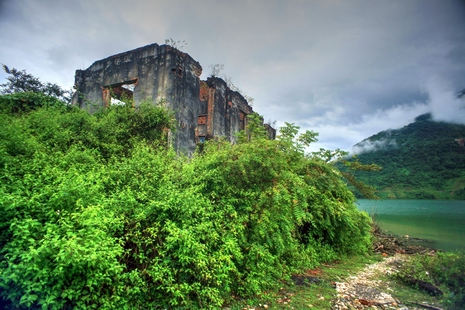 It would be a big miss if travelers to Lai Chau skip the castle of Thai King Deo Van Long. Deo Van Long mansion built inside down 3 Nam Na River and the Black River, a major insurance location, behind the high mountain in front of the wide river, stood in the palace area can observe all activities of a waterways and lands Muong Lay, in which the throat position can control the path to Phong Tho, Sapa, Muong Te and downstream of Peace as well as by way of Dien Bien to Laos.

According to the document, Deo Van Long is the son of Deo Van Tri, Thai ruled twelve bases (Sipsong Chuthai). Late 19th century, Deo Van Tri Vuong Hich response, leaders of ethnic Thai and some other ethnic Laizhou region revolted against France. After being seduced, Deo Van Tri surrender France, paving the way for them to enter the Muong Thanh, was France restore lands ruled by the river Sipsong Chuthai Da, allowing hereditary.

With the support of France, Deo Van Long took over reign instead of his father, tried to plunder the wealth, opium trade, forest products, goods and hold large fleet took the Black River as transport links Main trade with the Red River delta, became the richest regions.

In 1954, after the victory of Dien Bien Phu, Deo Van Long and his family lived in exile in France. Deo Van Long mansion was vacant, gradually deteriorated severely.

According to the indigenous peoples, the architecture of the mansion Deo Van Long is a combination of the architecture of the Thai houses on stilts with the architecture of the French.

The remains showed the building's architecture is a combination of the architecture of the Thai houses on stilts with the architecture of the French. The main building was built two-storey red brick, wood floors, roof tiles were removed from the rocks, commonly known as rock paper (the time of separation stone cutter software can be used, but when it comes to sun stone Hard as crockery). Around the house is the small cottages for people and soldiers, livestock barns …

Walled compound on 3m high brick and stone on the 40cm thick, with multiple crenellations, over 3m high. Prior to the main house with yard to dance to the Thai king bat partying, seating. Deo Van Long mansion typical of the art construction and feng shui Thai

Deo Van Long mansion recognized provincial historic sites in 1980. Since 2006, a year after at the inauguration ceremony of Son La hydropower project of cultural heritage conservation in the reservoirs of the period 2006 – 2010 is set, Deo Van Long palace is also in the plan reconstruction.

However, to this point, this monument is still in a state of clutter, yet to be restored and embellished. After 10/2010, the lake water level rise of Son La, the entire edifice of his "King Crown" are below the aquarium.