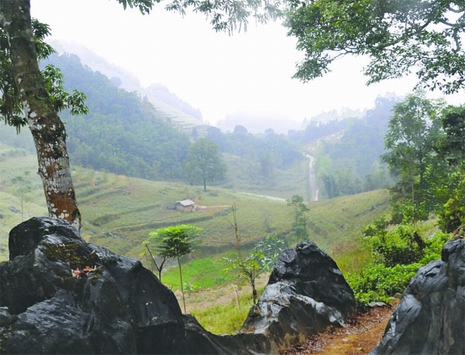 Si Ma Cai ancient citadel was built by Giang Ly Trang, a H'mong native from Hoang Su Phi (Ha Giang province). His real name was Giang Chan Hung, on a trip to Si Ma Cai village he stopped at Lung Sui and found the land possible to settle his life and took his family to Lung Sui. He chose Seng Sui land between Lung Sui (Si Ma Cai) and Lung Phinh (Bac Ha town) and set up his farm. In a short time, thanks to wise business Giang Chan Hung became the richest man in the region. He was also well known for being a good guy, good at martial arts and supported the weak.
Once, there were troops from across the border crossing the Chay River to Seng Sui, Lung Phinh and pillaged. Seeing that, Giang Chan Hung bravely organized young men in the area to fight the robbers. Achieving the victory he was worshipped as the head of the region. Being expelled from the place, the bandits pulled back across the border, calling back up to attack the military. Thanks to the secret agent, Giang Chan Hung knew the plot of the bandits. Immediately, he gathered the people and called many patriarchs of the H'Mong, Tay, Nung, Phu La people in Si Ma Cai, Lung Phin, Trung Do (Bac Ha), Pha Long (Muong Khuong) and Hoang Su Phi (Ha Giang) to built a citadel in fighting of the robbers.


The ancient citadel of Lao Di Pho is located in the ravine, from here can have a panorama view of the whole large area below, blocking the road from Chay River to Lao Di Phung (Lung Sui) and to Lung Phinh (Bac Ha). In particular, the building site is located on the side of the mountain, with large waterways and behind the plateau that can build a hundreds of camp. Thanks to the good command, only a short time the stone walls of 1m wide, nearly one kilometer long were built. As expected, right after the wall was built the robbers poured over. But from the Chay River to Lao Di Phang, they were ambushed by Giang Chan Hung men, using arrows and rollers, unable to move forward and had to withdraw troops to the river.
After that battle, the prestige of Giang Chan Hung resounded throughout Si Ma Cai, Bac Ha, Muong Khuong.
After hundreds of years, through ups and downs of history, many vestiges in the ancient city of Lao Di Phang still exist, although not intact. But that is enough to see and feel the spirit of Giang Chan Hung and the resilient spirit of the Lung Sui people.